These are the pictures I promised you would accompany this post. The truth is they are not great as the majority of them were taken prior to the game. During the game I was largely unable to use the zoom on my camera because of security, and I was too caught up in the action to take adequate pictures. I am not a professional photographer, and this is the first true time I used the Canon Eos7D camera I recently purchased. In addition, I'm still learning how to insert pictures using the SB nation format. I tried to include views of all the Wolves players and coaches from my vantage point.
Michael acted goofy almost the entire game. He plucked at Wayne's facial hair, shared japes with numerous players, danced on and off the court and basically smiled or had a mischievous smirk on his face the entire game. His teammates absolutely love him, and he treats them like they're brothers. I can see why he didn't want to leave Minnesota outside of having to move all of his stuff. It's obvious he genuinely cares about the team, and he was their loudest supporter on the bench when he was out with injury in the second half.
A common theme on Monday night was how much the Wolves players care about each other. Nicola would routinely pat players on the back and pat their head. He smiles frequently, which is why it's hard to find him terribly imposing despite his size. He is very close to Kevin. I would have liked to see how he relates to Darko, but Darko was presumably out with injury.
JJ is impetuous and clearly has a hot temper. He doesn't back down from anybody, and he's extremely vocal on the bench. I was surprised he played as much as he did this game, but he was effective at times, and maddening at others. I'm sorry this picture is out of focus, but I wanted to give you a taste of what I'm referring to.
Here is a picture of the infamous Wes Johnson smile. In all seriousness, Wes has an innocence about him, and he smiles a lot. Sometimes I had no clue why he was smiling, but it was both endearing and maddening at the same time. His teammates were very affectionate with him, and he was extremely supportive of them when he was on the bench.
Rick's mom obviously never told him that if he scowled as a child, his face was liable to remain in a scowl for all of eternity. Either that or this team does things that are truly maddening. I suspect it's the latter, but I swear his face was in a scowl the entire game. I don't remember seeing him smile, but I do recall him clapping his hands together with joy when Luke hit a runner with the shot clock winding down in the second quarter. Other than that he appeared exasperated by the Wolves' play and the refs for much of the game.
I'm not sure why I included this picture. I suppose it's because I wanted to include a good picture of Martel, and because I found it amusing that Bill was outlining a play for him using a pen and scratch paper.
Michael being Michael.
It was really tough to get a good picture of Kevin. The moment he stepped on the court he was all business, and was in killer mode all game.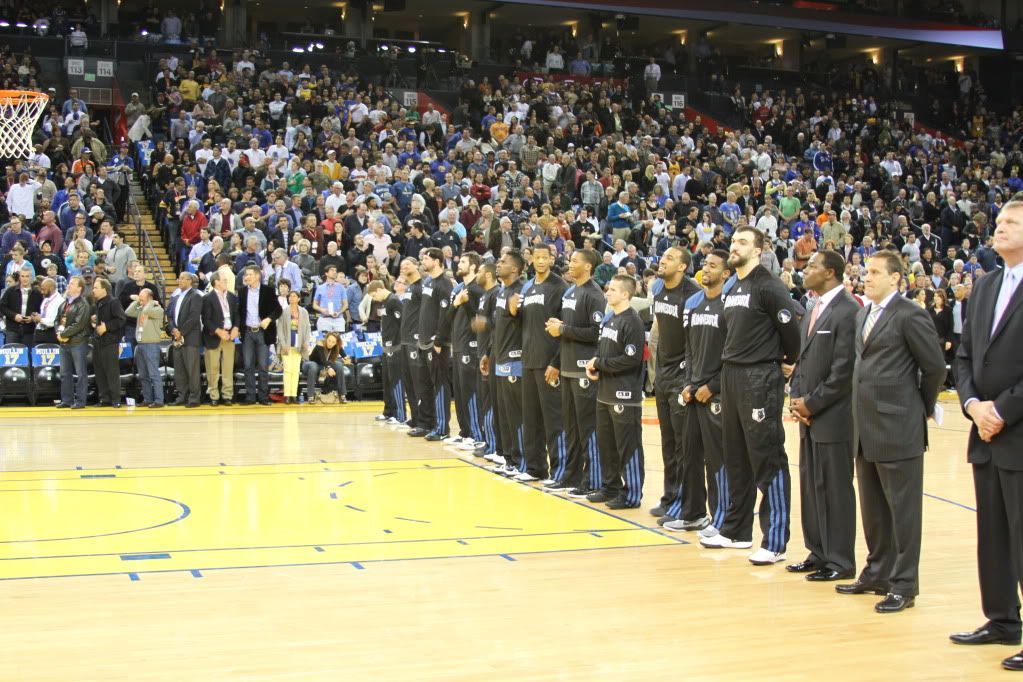 Lining up for the Star Spangled Banner.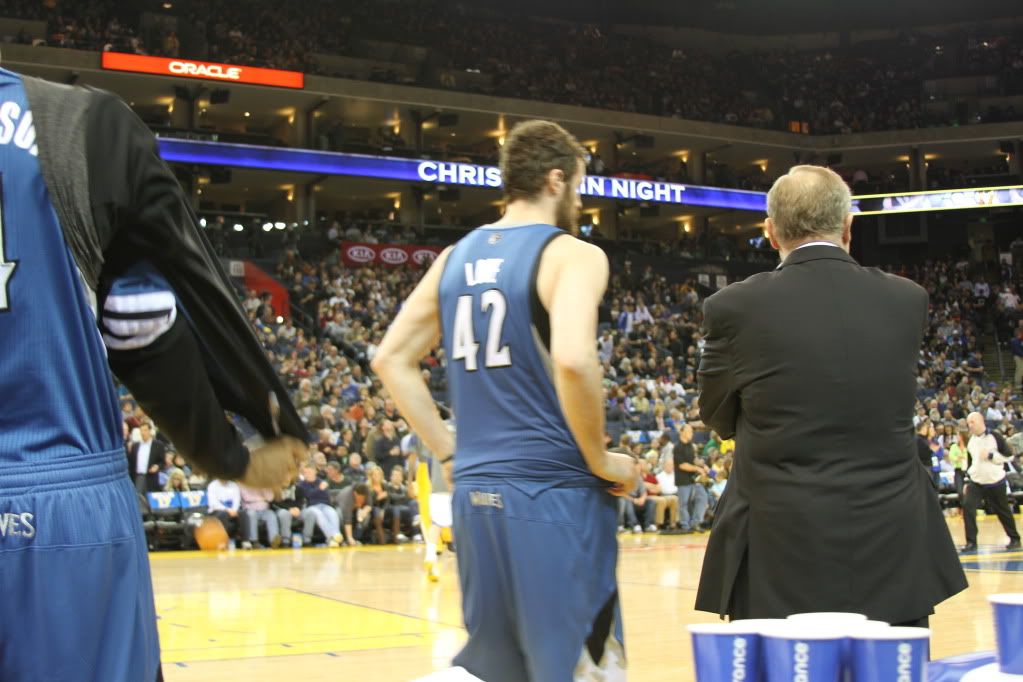 Kevin and Rick were together much of the game during timeouts. During the first timeout Kevin did most of the talking, and Rick watched as Kevin pointed to the white board he was holding.
I'm going to miss this guy if we don't resign him. He really is incredibly lovable.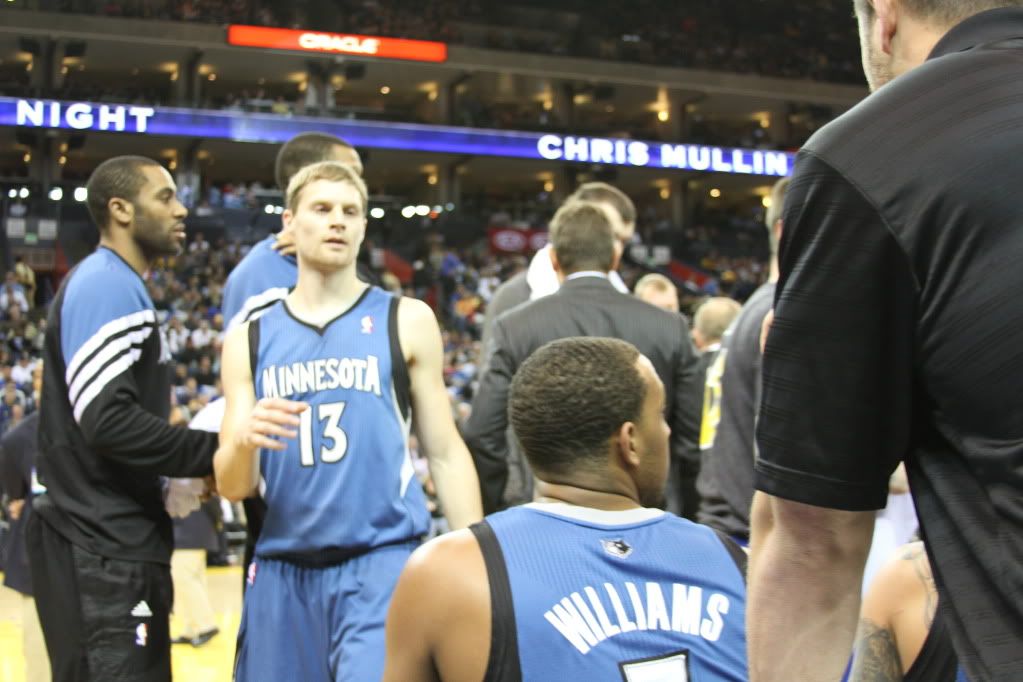 Luke coming for water.
I believe this was the first team huddle.
More of Rick and his pained look.
As I said, it's really hard to find this guy intimidating despite his size. This is also the picture of the man I referred to in my post that Andre said is the Wolves head of security.
AR was incredibly active pregame, but didn't play a minute. A lot of GS fans were clamoring for him to get in the game because they felt he would play poorly.
AT spent a lot of time shooting pregame. He was making most of his shots, and I was happy to see this carry over to the game, particularly in the fourth quarter. He was really upset with himself in the second quarter and threw his towel on the chair when he made some poor decisions.
JJ put in a lot of time dribbling and shooting pregame.
Kevin about to take a 3 in warmups. He made most of his shots pregame.
Martel was stretching for a very long time pregame.
Here is a little video of the pregame warmups taken from where I was sitting. Again, please excuse the quality of this.
One thing you can get a feel for in this video is how much traffic there was in the one person aisle separating me from the Wolves bench.
I am a very vocal fan, and my new go to move is apparently a right fist thrust into the air. I only bring this up because I wonder how other people celebrate at games. Are you vocal? Do you jump out of your seat? Do you stand most of the game? Do you bitch the refs out? Do you cheer every basket? Do you cheer defensive stops?