FINLAND
| | | | |
| --- | --- | --- | --- |
| G | Petteri Koponen (25) | Roope Ahonen (23) | Teemu Rannikko (33) |
| G | Shawn Huff (29) | Sasu Salin (22) | |
| F | Samuel Haanpää (27) | Mikko Koivisto (26) | |
| F | Gerald Lee (26) | Hanno Möttölä (37) | Kimmo Muurinen (32) |
| C | Tuukka Kotti (32) | Antti Nikkilä (35) | |
Notable youngsters/NBA talent: Petteri Koponen
Finland is led by talented 6'5" point guard Petteri Koponen who was drafted with the last pick of the first round in 2007. After terrific seasons with Italian team Virtus Bologna, Koponen joined Russian Euroleague participant Khimki as an offensive-minded back-up. Rannikko was the lead guard for Finland for years, but Koponen has finally taken over after a very strong 19 points and 5 points per game performance during the qualification tournament. At this key position, Finland has one of the most intriguing players who is an above average shooter from range, but also not shy of forcing his way inside and draw contact or dish out to open teammates. He will be very crucial to the team as his back-ups are either young and don't have international experience (Ahonen) or had a disappointing season (Rannikko).
Shawn Huff will spend a lot of time alongside Koponen and has showed his importante to the team as a shooting specialist and strong rebounder in the EuroBasket 2011 when he shot 46% from downtown and the qualification for the EuroBasket 2013 when he knocked down 19 of 33 three pointers and took down one offensive rebound per contest. Huff was terrible for most of the season but gained some confidence after switching into the second division of Italian basketball, going for 15.4 points (40% 3p%), 6.4 rebounds and 2 steals per 33 minutes in 8 games. After a disappointing season, Huff's shooting and defense will not only be important for Finland, but might him catapult back into the top level of European basketball. Another player to get much playing time in a tandem with Koponen and Huff should be 22 year old Sasu Salin who is a back-up on Euroleague team Union Olimpija Ljubljana. Salin is a playmaking guard with quick hands on defense but who has trouble staying consistent on offense, showing streaky behavior as an outside shooter as well as finisher around the rim. The Kop-Huff-Sasu trio should be solid on offense as on defense, and with elevated play by Huff and Salin, could become a match-up nightmare consisting of numerous two-way players.
Wing Samuel Haanpää works wonderfully with this core as a 2/3 player with great size (6'8") and also the ability to knock down 3's with ease (40% on 300 3's in the Finish league this year and 8.8 rebounds per game). Koivisto is another range specialist, having drained 40% of 298 3's this year, 41.5% of 323 3's last year.
Hanno Möttölä is very old at 37 and even though his shot hasn't been very efficient the last few seasons, his range gives Koponen, Salin and Rannikko lots of space to work with and kick out options. Kotti and undersized naturalized Gerald Lee are inside presences to challenge defenses inside and are decent enough passers to involve the strong backcourt.
Finland was a surprise hit of the last EuroBasket, finishing 9th and even though most people agree that they way outperformed their roster, it is not too crazy to assume that they make it at least to the second round with Koponen and his guild of shooters and defensive hawks.
GREECE
| | | | |
| --- | --- | --- | --- |
| G | Vassilis Spanoulis (31) | Kostas Sloukas (23) | |
| G | Nikos Zisis (30) | Michail Bramos (26) | Vassilis Kavvadas (22) |
| F | Kostas Papanikolaou (23) | Stratos Perperoglou (29) | Kostas Kaimakoglou (30) |
| F | Georgios Printezis (28) | Antonis Fotsis (32) | |
| C | Yannis Bourousis (30) | Loukas Mavrokefalidis (29) | |
Notable absentees: Nick Calathes, Kosta Koufos
Notable youngsters/NBA talent: Kostas Papanikolaou
Greece is seen by many as favorites with Vassilis Spanoulis returning to the team after taking time off in 2011. A reason for the strong image Greece has right now stems also from Olympiacos great run in the Euroleague with four players on the Greek squad.
After great runs for the golden generation surrounding retirees Diamantidis and Papaloukas, Greece suffered two disappointing campaigns at the EuroBasket and sees a chance to redeem itself in the field of teams that unfortunately miss so many key players. There are a few question marks though as Greece misses key players itself. Kosta Koufos has carved out a nice NBA career as a reliable defensive back-up center who doesn't do much wrong on offense. Bourousis and Mavrokefalidis will try to compensate for what they lose with Koufos and should be able to do that as Greece's defense isn't as much dependant on the center as other teams because of their strong defensive swingmen. Still, Bourousis and Mavro are great workers down low. Mavrokefalidis is a weird case. After being one of the stars at the U18 Euro Championship a decade ago, it took him almost to become 30 to make his debut for the senior team.
Even though Vassilis Spanoulis is still a wonderful player at 31, it will be very hard to replace Nick Calathes contribution as a pure point guard and signed a deal with Koufos' Grizzlies. Calathes had a somewhat tough standing in the Greek team when he started playing for them because he didn't have the respect of the very dominant members of Greece' golden generation, sometimes being barked at for mistakes others did, but Calathes earned the respect after a breakout season at the club level in Russia and will be sorely missed.
With the recent faces of Greece basketball of the last 10 years slowly retiring, they have done a nice job of pushing young talent and present three players under 23 at this tournament. Sloukas is the perfect ballhandler off the bench type, a high volume scorer in limited minutes and underrated piece of Olympiacos Euroleague win and a key in catching up what is lost with Calathes. As a defensive presence first and foremost, Zisis has been key part of the Greek golden generation and hasn't missed a tournament since forever and is a great balance to offensive superstar Spanoulis. Offensively, he's useful too as an efficient shooter and is quite a playmaker himself. US-born Michail Bramos is playing his second EuroBasket in a row for Greece, who will mostly be used as a forward hustling for balls, rebounds and on defense. Bramos is somewhat undersized at 6'6" but has a brutal wingspan of 7'0" which would make even Freddy Kruger bleach.
Papanikolaou is just 23 years old but has become a big minute player for Olympiacos who has the tools of being a deadly shooter from outside but knows to pick his spots and take advantage from close to the rim too. Papanikolaou is one of the top players to watch not only at this tournament but the whole year as he just signed a contract with FC Barcelona. Hopes of getting a medal are high and in Greece and people expect nothing more than Papanikolaou becoming a break through player, replicating his success at Olympiacos at the national level, and becoming the leader of another golden generation of Greek ball. Lots of responsibilities, but being backed by cult hero vets and talented youngs, the situation is looking good for Papa. Bourousis and Printezis is one of the strongest frontcourt duos in the tournament. Printezis is another instrumental Olympiacos figure and Bourousis, after a nice season as an offensive threat and rebounder with Emporio Armani, has signed a contract with Real Madrid.
As you can see, there is a lot to like about Greece and it's not simply Euroleague winners hype. They miss important players but it is astounding how they made the transition from retiring a number of golden players to being contenders right away with maybe the most balanced team in the tournament.
RUSSIA
| | | | |
| --- | --- | --- | --- |
| G | Alexey Shved (24) | Anton Ponkrashov (27) | Dmitry Khvostov (24) |
| G | Vitaliy Fridzon (27) | Evgeny Voronov (27) | |
| F | Sergey Karasev (20) | Dmitry Kulagin (21) | |
| F | Sergey Monya (30) | Semen Antonov (24) | Evgeny Valiev (23) |
| C | Dmitry Sokolov (28) | Alexey Savrasenko (34) | |
Notable absentees: Andrei Kirilenko, Aleksander Kaun, Viktor Khryapa, Timofey Mozgov, David Blatt-Shved interaction
NBA players: Alexey Shved (Minnesota Timberwolves), Sergey Karasev (Cleveland Cavaliers)
Notable youngsters: Dmitry Kulagin
To the casual observer, Russia might seem like a favorite for a medal after run to the bronze medal at the Olympics that still felt somewhat underwhelming for the squad. However, this is not the same team. While one of London's stars, Alexey Shved is back to lead this team with increased responsibilities, the team is lacking players who might have been just as important if not more important to the team's Olympic success. Andrei Kirilenko and Viktor Khryapa have announced temporary retirements. Sasha Kaun and Timofey Mozgov won't be available either. What do have those guys have in common? They are big. They are Russian's complete armada of reliable bigs, minus Sergey Monya who will be available and semi-reliable Andrey Vorontsevich who was very eager to prove his quality as a 4/5 hybrid. Unfortunately, in a preparation game against the tough Fins, Vorontsevich sprained his ankle after an ugly collision and won't be able to participate either. That leaves 6'8" Sergey Monya. Gulp. As well as 34-year old defensive minded Savrasenko who last played for Russia in 2008. Sokolov hasn't played for Russia since 2009, young Antonov not having had much playing time with the senior team and Evgeny Valiev making his debut. Gulp.
Thanks to the emergency at the big spot, Russia's defense sprojects to be sieve-like and some of that concern seems to infect the backcourt too as Russian defense up front has failed to support the interior in the few games I've seen of the preparation. It is a very ungrateful job for head coach Vasily Karasev (father of Sergey), having taken over just recently after a tumultuous exit of the former coach. Finding a balance will be almost impossible for Karasev as he has to make sure to play the best, most effective lineups without really knowing yet what they are. Go small? Salvage defense? Salvage offense?
The backcourt is still strong and can rely on Ponkrashov as a decent ballhandler and shooters Fridzon and yet inexperienced Cavalier Sergey Karasev, but much of their effect, as well as that of Shved, should also be made obsolete offensively without the bigs inside. With Ponkrashov not being a scoring threat at all and few options up front, expect Shved to be carrier of heavy usage, always looking to get his peers involved or finishing himself. After a season that might have taken some of the confidence he gained after the accolades of the Olympics, Shved should have fun running a team again and being its focal point among very few other options, but ultimately it should be a frustrating experience for Alexey. Thankfully, he's used to injured teammates and losing by now. Go Wolves! With Turkey and Greece being undoubtedly in front of Russia, Alexey's troop might not even make the second round as the other teams in this group, Italy, Sweden and Finland are good enough to hang with them.
With Sergey Karasev not being a secret no more, the youngster to watch is 21-year old Dmitry Kulagin, an intriguing tall (6'7") ballhanding guard shifiting more to the perimeter recently, who has not had a good year as a shooter and still has big issues with his decision-making.
After the euphoria in London, Russia will come down to earth hard with surprisingly unwatchable basketball, but is still worth a look for the typical Shved antics, Karasev playing for Karasev again and Dmitry Kulagin's fake afro haircut.
ITALY
| | | | |
| --- | --- | --- | --- |
| G | Travis Diener (31) | Andrea Cinciarini (27) | Guiseppe Poeta (28) |
| G | Marco Belinelli (27) | Pietro Aradori (24) | Luca VItali (27) |
| F | Guido Rosselli (30) | Allesandro Gentile (21) | |
| F | Luigi Datome (25) | Nicolo Melli (22) | |
| C | Daniele Magro (26) | Marco Cusin (28) | |
Notable absentees: Danilo Gallinari, Angeli Gigli, Andrea Bargnani, Daniel Hackett
NBA players: Marco Belinelli (San Antonio Spurs), Luigi Datome (Detroit Pistons)
Notable youngsters: Luigi Datome
Italy was a curious case as a country that has been able to produce a nice amount of top-level talent in Gallinari, Bellineli, and even Bargnani despite suffering a broken down youth program for years and years. Italy's youth program is moving up though, having won this years U20 Euro Championship. Italy's youth movement is not strong yet but has produced one player who should see significant time in this tournament with the chance to fire up his NBA draft stock. Allesandro Gentile is a 20 year old swingman at 6'6" who has seen extensive minutes for Italian side Emporio Armani Milano. Gentile's calling card has been shooting but he's been a disappointment in that regard the last two years, and his defensive limitations might sweep him out of NBA consideration for good. Thus, he's one youngster to watch closely at this tournament - his NBA hopes might depend a lot on his showing.
First and foremost, this team will be carried on the fearless shoulders on Mario Belinelli, NBA rook Luigi Datome and former Orlando Magic point guard Travis Diener who was naturalized. Belinelli's somewhat inefficient but highlight and big moment filled run with the Bulls is still in memory and finally led him to break out of the spot-up only label - he'll basically be the same gutsy player trying to make buckets. Datome's is a sneaky smart player and has fantastic ballhandling abilities for a player his a 6'8" guy and shows wonderful balance in using his quick first step to get inside or pacing about at the perimeter looking for easy shots from outside which he converts at a high rate.
After being swept out of the NBA for good, Travis Diener found exceptional success in the Italian league where he plays with his cousin Drake. This year, Travis logged 16.4 points and 7.2 assists with just 2.2 turnovers and 1.3 steals in 33 minutes in the Italian league. In the EuroCup, he got 8.5 assists with 2.2 turnovers. In one EuroCup game, he actually got 15 assists with 2 turnovers. He's having fun and secured an Italian passport which makes him eligable to debut for the Azzuri, relieving and complementing Belinelli as an on-ball and off-ball threat. Defensively they are not an ideal pairing, especially with Gentile getting minutes. Cinciarini and Aradori got major minutes during the qualification and is a decent scoring guard who shouldn't be underestimated either when Diener and Belinelli nieed rest. In scoring, the backcourt looks solid and opens up opportunities for many lineup combinations.
Just a few days before the EuroBasket, Italy suffered a blow after Angelo Gigli, its strongest inside presence available. This injury opens up a giant hole on the inside and makes Italy one of the most unbalanced teams in the tournament. 22-year old Nicolo Melli is not in NBA consideration anymore, but had a decent season as a 6'9" forward and secured a spot with the senior team as a playernot looking for his own shot but doing lots of other little workman things that the shot happy backcourt needs to feed on, but might not be a reliable option.
SWEDEN
| | | | |
| --- | --- | --- | --- |
| G | Thomas Massamba (28) | Kenny Grant (31) | Ludvig Hakanson (17) |
| G | Jeffery Taylor (24) | Dino Pita (25) | |
| F | Viktor Gaddefors (21) | Anton Gaddefors (24) | Erik Rush (25) |
| F | Jonas Jerebko (26) | Jonathan Skjöldebrand (30) | |
| C | Joakim Kjelbom (34) | Brice Massamba (25) | |
NBA players: Jeffery Taylor (Charlotte Bobcats), Jonas Jerebko (Detroit Pistons)
Notable youngsters: Ludvig Hakanson
There isn't much you should expect from Sweden, but it is surprising that a country, where hockey and soccer dominate, can produce interesting a decent amount of A-list and B-list talent. Granted, Jonas Jerebko might be out of the NBA soon, but another Swede has entered the NBA last year in Jeffery Taylor. Taylor was born in Sweden and lived there half of his life so he's not a naturalized player. Showing what they have, Sweden is not shy of presenting by far the youngest player of the tournament. Check this: PG Ludvig Hakanson won't turn 18 before March 2014. He's been one of the stars of youth basketball in Europe for about 2 years now with crazy statlines in youth competitions, but his exploits were limited to the B Division of Euro youth basketball, so it's not quite clear whether he is an A-list talent.
Apart from these three players, Sweden features a few more capable players playing in some European top leagues like Skjoldebrand from Hapoel Tel-Aviv, Kenny Grant in Nancy (France), Erik Rush and Viktor Gaddefors in Italy.
There is not much hope for Sweden in a group with much superior Greece & Turkey, and Italy or Russia should be fighting for the third spot, but with a dynamic roster that doesn't have much to lose, Sweden could be in for a few upsets and could kill Italy's or Russia's chances of advancing.




TURKEY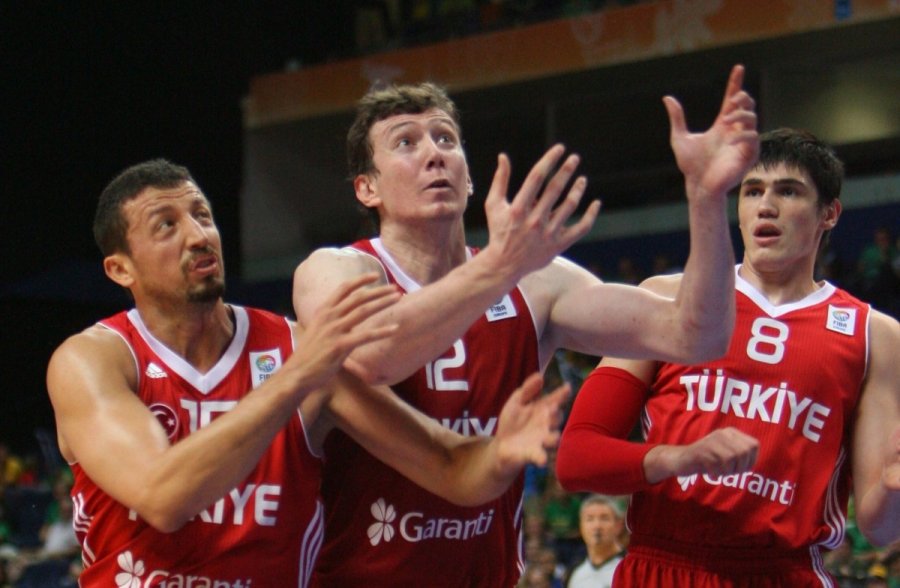 | | | | |
| --- | --- | --- | --- |
| G | Sinan Güler (30) | Ender Arslan (30) | Dogus Balbay (24) |
| G | Hidayet Türkoglu (34) | Serhat Cetin (27) | Birkan Batuk (23) |
| F | Ersan Ilyasova (26) | Emir Preldzic (26) | |
| F | Kerem Gönlüm (36) | Semih Erden (27) | |
| C | Ömer Asik (27) | Oguz Savas (26) | |
Notable absentees: Omer Onan, Kenan Sipahi
NBA players: Hedo Turkoglu (Orlando Magic), Omer Asik (Houston Rockets), Ersan Ilyasova (Milwaukee Bucks)
Notable youngsters: Kenan Sipahi
Like always, Turkey is somewhat of a surprise bag of a superstar studded roster with European standouts and NBA players. Turkey couldn't achieve much during the Turkoglu era when they didn't have home court (and thus ref) advantage but you have to give them the benefit of the doubt with Asik and Ilyasova having become solid NBA players. On a good day, Türkoglu is a super versatile point forward, but he didn't play much the last two years at the club level. Well, maybe the Turkish team's success will linger on whether they are finally able to break its dependence on its controversial star.
The backcourt is quite shaky though and not a threat to scory which might put the ball in Turkoglus hands a lot again. Arsland and Balbay are defensive dogs using all kind of tricks to annoy opposing guards with Güler being more of a pore point and scoring threat from outside. Omer Onan, more of an outside shooting guard than ballhandling creator, sustained an injury shortly before the tournament and will make the question marks surrounding the ability to distribute responsibilities among more heads even bigger.
One advantage that Turkey has is not only defensive stud Ömer Asik, but the size they can surround him with. Turkoglu, Ilyasova are big players with deep range, much like Serhat Cetin, an intelligent swingman who prefers playing outside too and can pass the ball very well. Emir Preldzic, picked in 2009 by the suns, is another ballhandling wizard at 6'9" and an inside relief for all the shooting around the perimeter. Preldzic, not much of a shooting threat, notched 3.5 assists to 1.9 turnovers per game in the euroleague, converting 58% of his 2pt shots in back-up minutes.
Kerem Gonlum is already 36 years old but still a relentless rebounder who scores at a surprising high rate inside. Age is always a question, but the frontcourt around Gonlum, Asik and former NBA player Semih Erden projects to be very solid.
Somewhat unfortunately, super young point guard Kenan Sipahi has not made the team. Just at the age of 18, Sipahi is a 6'6" point guard with a great outlook. He played extensive minutes in the Turkish league where he held his own well despite a measly shooting performance (38% 2P%) in almost 25 minutes per game throughout 33 games. Kenan made his professional debut two years ago in very limited minutes but showed his great talent especially last year when his workload was not big but still tough. Over 30 games, in 14 minutes per game, Kenan got 4.2 points, 2.3 assists and 1.6 reboundson 55% 2FG%. Not bad for a 17 year old. Kenan will make the next step next year as he will join Euroleague squad Fenerbahce. Most importantly for Turkey, he's shown great focus on team play and didn't go for crazy scoring numbers in youth competition despite having could easily done that.
By the way, did you know that most of Turkey's basketball stars have a Balkan background? Turkoglu speaks Serbian almost as eloquantly as other Serbian basketball standouts, Omer Asik has his roots there, so do some other players. There is a conspiracy theory going on saying that Turkey has helped talented kids from the Balkan entering Turkey, giving them turkish passports and even changing their birthdates to make them younger. Most of that sure is anti-Turkey propaganda, as Turkey has generally been a favored living spot from Balkan muslims. The case of Ersan Ilyasova is more curious though. Ilysaova is obviously a name with a Russian touch with the 'a' for the female form of surnames making it even more mysterious. Ilyasova has said that he was born and grew up in either Tajikistan or Uzbekistan, then entered Turkey, most likely only with his mother. How he got a turkish passport is somewhat disputed and controversial with some people saying, he's in fact three years older than his passport says. Don't take that too serious, but man, we could need Ersan on the Russian squad now.

Crazy to think that some team could be runaway favorite in a group with Turkey and Russia, but these aren't the Russians we saw at the Olympics and Turkey has to finally prove it can play team basketball without the whole arena erupting in cheers for them. Greece looks solid, balanced, dangerous and its key players have had great achievements on the club level in the last two years. Much like Russia, Italy's frontcourt looks too shot to have a say in the overall competition, but they should fight for the 3rd spot. The Scandinavians, especially Finland should be able to annoy some of the top 3 teams in this group though.