Here is as detailed a breakdown of the interesting bunch among the early draft entrants as I can give you. I'll start with an overview of a group by position with the most important raw and advanced stats, followed by a little text that can include style of play, history and team/situation context. You can download the whole 'big board' as an excel file here.
Then, looking at the whole group of youth player's in European top leagues, I'll show you who were dominant offensive players (USG% and efficiency) as well as potential defensive guys (STL% and BLK%).
Last but not least a comparison of league and EuroCup stats of Jusuf Nurkic, Dario Saric and Clint Capela. Basically, Capela was the only one who could translate his dominant production from league play to international competition.
You can click all graphs to enlarge them.


POINT GUARDS
Bee's Power Rank:
Vasilie Micic
Serbia
Draft-o-meter: Very likely to be picked.

Micic is the youngest player of this year's European point guard crop with special vision and physicality. He is highly experienced after representing every youth national team of Serbia, and is the leader of a very young Mega Vizura team in the Adriatic League.
He's a pure point guard who racks up lots of assists, but can also be a scoring option if asked to be. He's a better shooter than he showed this season. I'm not a giant fan of Micic and some people think that his draft stock is so high partly due to Serbia's strong performance at the Under-19 World Championship, where the Serbs/Micic were the only team to give the Marcus Smart/Payton/Okafor-led USA team a little scare. To me, he seems a little like a classic eye test favorite because his game is physical and fluid, and looks 'NBA-ish'.
Nonetheless, Micic has made all of every opportunity he's been given to showcase himself and impressed scouts at every tourney or camp he's been at, much like this year's EuroCamp where he was among the best players if not the best. His size might just be enough to be a versatile guard for both positions, and his mix of shooting and pure playmaking makes him intriguing enought to get a chance at a NBA roster spoit at some point. 
DraftExpress - Vasilie Micic Scouting 2013
Vasilie Micic EuroCamp 2014 Interview
Guilem Vives
Spain
Draft-o-meter: NBA scouts took note, make or break years coming up
I don't know too much about Vives. He didn't seem to be seen as super talented within the Spanish talent circles and doesn't even has a real DX profile. However, he was given a big opportunity this season becoming Joventut Badalona's (Ricky's first pro club) starting point guard. There aren't too many guys who get to play almost up to 30 minutes per game in the ACB, yet Vives was one of them.
His efficiency doesn't blow you away as he was a low key pass-first point guard with decent size, but his BLK% and raw blocks numbers are quite remakable over the stretch of minutes he played. He actually was 16th in total blocks in the ACB, as a 6'4" dude. This impressive season might have put him on the radar of NBA scouts and he might be able to raise his stock to a second round pick in the next few years. His individual offense is shaky, especially shooting and is a major concern.
Despite good size he's super skinny. Given his age and fram, I doubt that he's really a defensive force yet apart from his help defense instincts . He has a super long chin and looks like a character from Family Guy too.
Robert White - Guillem Vives 2014 Scouting Report
Leo Westermann
France
Draft-o-meter: Injury setback, unlike to be picked.
Westermann is a pure point who relies on his IQ with questionable physical tools like a lack of athleticism and negative wingspan. He's playing for Partizan Belgrade which is one of the better teams in Europe, constantly among the top teams in the Adriatic League and qualifying for international tournaments. Partizan is particularly intersting for scouts because they are always a radically young team filled mostly with guys who are early in their twenties. Despite all the youth they usually play at a very slow and controlled pace which doesn't make things that easy for Westermann or his backcourt partner Bogdan Bogdanovic.
Westermann showed promise early on as a youngster in France and took a gutsy step going to Serbia a few years back to become the leader of young Partizan. Up to this point Westerman did a good job given the circumstances and has been seen as a fringe draft candidate for years. This season was seen as somewhat of a make or break season with Westermann leading Partizan in the Euroleague. He started the season hot in the Adriatic League but was dismantled by Euroleague defenses in the few games he played before going down with an ACL tear. Tough to see him getting drafted. He might become interesting as a cheap, undrafted translate later in his career similar to Nick Calathes but given his physical disadvantages even that is tough to see as of now.
Draftexpress - Leo Westermann 2013 Scouting Video
Leo Westermann Hoop Summit interview
Devon Van Oostrum
Great Britain
Draft-o-meter: Falling fast after a lost year. Very unlikely to be drafted.
He's been one of the most intriguing prospects for many people for about two years now. Unusually atheltic point guard from Britain who went to Spain at an early age. After playing successfully in Spain's minor leagues, DVO was promoted to Euroleague's Laboral Kutxa Vitoria's senior team in 2013. Unfortunately, he barely ever played. At least, Van Oostrum had a promising debut for Great Britain's senior team at the EuroBasket 2013 where he averaged 7.2 points and 2.2 assists for coach Joe Prunty, who is also an asssitant on Jason Kidd's staff.
This was a lost year however and Van Oostrum, long considered one of the brightest talents in the 1993 class, who put up big scoring performances in his youth days and has arleady been scouted by NBA teams years back, seems to slowly fall off the radar.
SHOOTING GUARDS
Bee's Power Rank:
Bogdan Bogdanovic
Serbia
Draft-o-meter: Very likely to be picked after a solid high-usage year.
Bogdan's twitter name is LeaderOfHorde which fit his role on Serbian Euroleague team Partizan Belgrade well this year. After Partizan's actual leader, point guard Leo Westermann went out with an ACL tear early in the season, the two-guard had to shoulder most of the offense for a super young Partizan team in very good competition domestically and internationally. With few other ballhandling options in Terrance Kinsey and struggling French youngster Boris Dallo, they lacked spacing and secondary options which made his job a very tough one.
Bogdanovic became a full-time on-the-ball shot creator. Throughout Europe he was among the undrafted youngsters with the highest USG%. His efficiency won't blow away, but you have to cut him some slack for the circumstances he had to play in: He was aisssted on only 9% of his shots at the rim and 12% on his 2 point jump shots. Partizan was one of the worst offensive teams in the EL this year. With Bogdanovic on the field, they had a somewhat respectable ORTG of 101.5 and shot 36% on 3s. With him on the bench, the ORTG dropped to 91.4 and his teammates converted 29% on 3s.
Draftexpress - Bogdan Bogdanovic 2013 Scouting Video

Mateusz Ponitka
Poland
Draft-o-meter: Outside chance to be picked in the second round. Might need another strong year to solidify NBA potential.
He might be my favorite young wing in Europe. He's a real swingman who's been solid off-the-ball, either as a cutter or a shooter with some ballhandling skills. Albeit still raw in that department, his handles have been good enough to be effective, get a fair number of opportunitites at the rim and draw fouls in the competitions he's played at. Despite a short 1:1 wingspan, he's known as a solid defender with an encouraging STL%, actually the highest among young guards or wings in all European top leagues. In 2013/14, he proved himself in a larger role for Belgian EuroCup team Oostende. He's also had one of the higest USG% among European youngsters. He's not an unknown with NBA scouts as he's already competed at the Hoop Summit and the EuroCamp a few years back.
He should have an outside chance to be drafted in the second round in the next two years. I would love seeing him on a Euroleague team or play in a tougher league next year.
Nedim Buza
Bosnia
Draft-o-meter: Said to have a second round promise but will likey withdraw.

One of the Bosnians who worked out for the Timberwolves among other teams. There isn't a lot of info about him and he is very likely a few years away from having a team consider to draft him or bring him over. His stats in the weak Bosnian league were nice and he seems to have some potential as a shooter with size who can play both wing positions and handle the ball a little. He's rail thin but seems to have invested some time into weight training this year. He'. Along with the B-Division championship, he's most prominent showing was at two Nike Junior Invitational Tournements a few years ago where he shot 16 for 38 from three in both competitions combined.
He's part of Bosnia's promising youth trio along with Jusuf Nurkic and Adin Vrabac which dominated the B-Division Youth Championship last year to an easy gold medal.
Nedim Buza Wasserman Agency workout in Los Angeles some weeks ago
Buza scores 31 against Unicaja Malaga youth.
Axel Toupane
France
Draft-o-meter: Outside chance to be picked in the second round due to athleticism and eventual 3-&-D potential
Toupane stands out among the top group of this year's European shooting guards because of his underwhelming usage and imposing athleticism. Toupane wow'd scouts at the Eurocamp 2014 with a 40" vertical but he's just not able to use that athleticism on offense much to create for himself. However, he's been a terrific defender at the French league level.
What's most frustrating about Toupane is his reluctance to shoot threes. He didn't play much in his first too pro seasons with Strasbourg and barely took 3 3PA per 30 minutes. This year, he took  1.8 3PA in 18 minutes per game and shot a promising 34% as well as almost 90% on very few free throws. At 6'6" with great athleticism and wingspan, Toupane would be a great cheap 3-and-D candidate... if he just would show more confidence and increased focus in his three point shot.
Marcus Eriksson
Sweden
Draft-o-meter: Outside chance to be picked in the second round after good results as pure shooter in starting role.
I don't know much about the NCAA players but I doubt there are many better shooters than Eriksson in this draft. Eriksson is a product of FC Barcelona and played for its 2nd tier team last year alongside future prospects Mario Hezonja and Ludvig Hakanson. Before the 2013/14 season, Eriksson was loaned to La Bruixa d'Or where he got the chance to start and play 20+ minutes.
Eriksson was 3rd in scoring among La Bruixa d'Or players and let them in Win Shares & outside shooting at 5.6 3PA per game which he converted at 37%. Unfortunately, this is all Eriksson can do really at this stage as he's neither a special faciliator nor much of a presence on defense. Eriksson sure is as pure a shooter as they come but he will need to add a lot of versatility to his game if he wants to spark real interest from NBA scouts. Luckily, he's still just 20 years old.
Eurohopes - Marcus Eriksson 2013/14 scouting video
SMALL FORWARDS

Bee's Power Rank:
Alessandro Gentile
Italy
Draft-o-meter: Decent chances to be picked late in the second round.
Gentile is a physical scoring wing who intrigued NBA scouts for years and years and years. Gentile's physicality and talent level at his size is exceptional and drew some paralells to Italy's greatest export yet, Danilo Gallinari, but Gentile's career has been an inconsistent one. Auto-eligible for this year's draft, Gentile's and his team's strong 2nd half of season in the Italian League and the Euroleague should give him his best chance yet to actually get serious consideration by NBA scouts.
Gentile struggled a little in a heavy usage role last year and improved both his efficiency and playmaking this year while keeping his usage very high. He doesn't need to play on the ball to be effictive though. During the season, Emporio Armani Milan added US-Italian Daniel Hackett, one of Europe's premiere playmakers. From then on, the team surged in the Euroleague and Italian League with its scoring and playmaking frontcourt trio of Hackett-Gentile-Keith Langford.
What separates Gentile sharply from Gallinari is athleticism. Gallinari isn't the most athletic guy either but Gentile's athleticism is very lackluster. Whether he'll be able to defend NBA guys or be as good a ballhandler against NBA defenses is a big question mark, but as a 6'7" wing at 230 pounds, who improved as an efficient high-usage option who can faciliate, he should be worth a look.
Robert White - Alessandro Gentile 2013/14 Scouting Report
Ioannis Papapetrou
Greece
Draft-o-meter: Very slim chances to be taken inthe second round. Might need another 1-2 years with heavier minutes.

Papapetrou barely played any minutes this year but he became a footnote in NBA scouts' notebooks two years ago when he played for Texas Longhorns in the NCAA. After just a year in college, Papapetrou became a pro in Greece for Olympiacos but hasn't quite cracked the rotation as a big minute player yet. This year, he's played just 13 minutes per game.
At 6'8" without a great wingspan, Papapetrou is a tweener who envisions himself as a small forward. At this year's Eurocamp, he's showed his versatile skillset as a three point shooter who can also play efficiently in the post. As during the season, Io-Papa showed a knack for scoring and rebounding on the defensive end. As a tweener, he struggles to play individual defense. His defensive effort at the EuroCamp was solid but putting in an extra effort during a two-day event is obviously different from a whole season. Papapetrou doesn't get many steals and isn't great laterally which will be a problem defending the perimeter and his size limitation will make it tough to play him against some 4s. Should he be able to hit his threes consistently, I'm confident that he will get a chance in the NBA at some point.
Robert White - Ioannis Papapetrou 2013/14 scouting video
Ioannis Papapetrou 2014 EuroCamp interview
Adin Vrabac
Bosnia
Draft-o-meter: Very slim outside chance to get drafted in the second round. Make or break years coming up.

Vrabac is Nedim Buza's teammate in Bosnia and was with him on tour in the US a few weeks ago, working out for the Timberwolves among other teams. Vrabac and Buza are pretty similar players in the Bosnian league. High-usage wing scorers with size who can handle and either faciliate (Vrabac) or shoot (Buza).
There are some major question marks regarding Vrabac's physical frame as he's super skinny, somewhat of a tweener at 6'9 who didn't show a great shooting touch from neither the perimeter nor at the free throw line, and has quite a high point of gravity. Unfortunately, there are no reports on how Vrabac and Buza did in their US workouts, and Vrabac had a very quiet outing at the EuroCamp 2014 too.
Adin Vrabac at recent Wasserman Agency workout in Los Angeles
POWER FORWARDS
Bee's Power Rank:

Dario Saric
Croatia
Draft-o-meter: Potential late lottery pick.
The people's champs's first pro season in a big role for Croatian club KK Cibona Zagreb in 2012/13 made many observers sour on the post-Rubio golden child of European basketball. Dario's revenge tour to retake the throne as Europe's most dominant youngster has been mostly successful.
You know how much I love Dario. I try to be objective about him for this preview but seriously, his 2013/14 season has been quite amazing. Saric struggled last year at pretty much everything. He wasn't effective nor efficient with the ball, wasn't much of a playmaker and struggled to be much of a factor without the ball in his hands. Saric played the 2013 EuroBasket for Croatia in a limited role, much different from the one-man insane usage offense he was asked to be for Croatia's youth teams. Saric was mostly a hustle guy during the tournament and did well, not showing any character issues or discomfort either.
Playing for Cibona this year, he improved all across the board:
Let's take a deeper look into his role with Cibona. Entering the season, Dario played with dominant ballhandlers Jerrell Blessingame, D.J. Strawberry and Minnesota-born Matt Janning. Due to financial problems, Cibona had to give away Strawberry and Jenning before the season's second half. With a lack of playmaking options, Dario's minutes and offensive focus increased significantly. With the departure of Janning/Strawberry, Saric's MPG went from 30.5 to 34.5, his USG% from 21.2 to 32.6 (!!) while Cibona's eFG% went from 55.7 to 55.9 ad Team-ORTG 111.9 to 109.5. Cibona might have played better basketball in general after the departure of Strawberry and Janning and surprisingly won the Adriatic League behind a ridicolous Final Four effort by Saric, topped by a singing performance with Cibona's fans in the gym.
Among European youngsters, Dario had one of the highest USG% and was fairly efficient. In fact, the USG% of his second season half came close to Jusuf Nurkic's. Saric was mostly operating inside the perimeter, posting up or making short drives to the rim, either finishing himself or hitting scorers at the perimeter or under the rim. Cibona hates long two's and Dario's ability to play as a faciliator inside alongside stretch guys helped them run an efficient offense that could get good looks. His shooting is still shaky but much improved from the terribleness of last year, especially at the free throw line. Robert White of ProspectNext thinks that he needs 1-2 offseasons to become a three point threat you have to respect as his form looks good and disciplined.
He is one of the best per-minute rebounders in Europe, but this seems to be somewhat padded, especially defensively. Dario iniates the offense a lot after defensive rebounds and his teammates might have been instructed to leave uncontested rebounds to him. His athleticism is a concern on both ends as he struggles with his finishing against contact sometimes. Defensively, his STL% and BLK% looks decent though and he was able to provide some rim protection for Cibona. The team DRTG was good with him as a 4/5 for long stretches on the court. His perimeter defense is very shaky as he reaches around lazily. Also, he can't catch up with plays when he gets behind, also has problems getting back to his man after hedges against pick and rolls. He seems afraid of guys blowing past him and he often opts to not contest three pointers at all. He's an active and willing defender though and not a liablity in the Adriatic League. He also educates kids about the dangers of pyro and likes running around naked at night. Dario is Dario.
On the go-to-guys.de scouting report made by the guy who also provides me with the stats you can find lots of other goodies like scouting videos for playmaking, scoring, defense (very long) and activity maps. Take a look, I helped with the playmaking video.
Series of Dario Saric 2013/14 scouting videos - Playmaking, Scoring & Defense
Clint Capela
Switzerland
Draft-o-meter: He will be drafted in the first round but he could go anywhere from lottery to mid-20s.
Capela has been seen a potential lottery pick for most of the season due to his incredible production in the domestic league as well as the EuroCup. As Simon Jacas of in-the-game.org showed, Capela saw increased minutes with the season going on without a dip of production. Offensively, Capela is quite raw and doesn't show much potential as a shooter. He gets most of his points off easy opportunities like put-backs or created by others. He plays above the rim due to his freakish athleticism and can put the ball on the floor for short stretches when he has a straight line to the rim.Despite the limited offense, his USG% was not super low at the French league level, so he was able to be a frequent scorer despite the limitations and fundamental weaknesses.
His passing looks awkward and he is prone to throwing the ball away on passes that show a lack of basketball IQ, but 1.7 assists per game isn't too shabby and might show some potential. Also, Capela just wasn't asked to be anything buta defensive terror with limited offensive involvment for Chalon Basket. In the weaker B-Division of European youth basketball, Capela was a man among boys offensively too, and a stat-stuffing first option for Switzerland.
At 6'9", Capela might appear a little undersized but similar to Bismack Biyombo he has an incredible wingspan (7'4") that will allow him to play the center position as well as chase passes and players around the perimeter which might actually be his greatest defensive upside. Very few youth players in Europe could keep up with his combination of STL% and BLK%. Despite the strong statistical profile, his defensive impact at this point is questionable as he is quite skinny and a pushover in the post for physical and experienced players.
Capela had a bad showing at the 2014 Hoop Summit which seems to have shot his lottery potential. However, the Hoop Summit is a sample size of just a few days. Capela was terrific for his age in a big minute role already carved out for him for the future. Unlike Saric and Nurkic, Capela was also able to be just as impactful in EuroCup competition as in league play.
Draftexpress - Clint Capela 2013/14 scouting video
Clint Capela 2014 Nike Hoop Summit interview


Damien Inglis
France
Draft-o-meter: Should get drafted in the second round, maybe late in the first due to physical features.
Inglis is impressive physically with a wingspan of 7'3" while standing 6'8" in shoes. With his Freddy Kruger-arms and instincts, he's already a terror in passing lanes and as an on-ball defender on perimeter ballhandlers, racking a high number of steals. There's still a question mark about whether he'll be a 3 or a 4. He's a terrific defensive rebounder but despite the long arms showed limited potential as a rim protector or shot blocker.
He's by far the youngest prospect in this power forward group, almost exactly a year younger than Clint Capela. Offensively, Inglis' potential to play as a wing and 3-and-D specialist seems bigger than Capela's too. His ballhandling is decent at that level and he showed some potential as a playmaker. Also, he had good results with 3 point shooting lately but barely took more than one three pointer per game for Roanne in 2013/14. He's not nearly as atheltic or mobile as Capela. His statistical profile isn't mind-blowing but given his age, physical advantages and skillset basics, it's not far fetched too asume that super young Inglis will take big steps in the next few years in Europe.
Draftexpress - 2014 Damien Inglis scouting video
Damien Inglis 2014 Hike Hoop Summit interview


CENTERS



JUSUF NURKIC
Bosnia
Draft-o-meter: Likely lottery pick
Nurkic is a load who is playing extremely physical despite very young age and limited bsketball experience. Nurkic started playing organized basketball just about three years ago in Slovenia before turning heads at the 2012 Nike Invitational Tournament where he turned NBA scouts' heads. Nurkic was a monster in that competition, getting 31 points and 15 rebounds in the first game already. Scouts were not only impressed by his dominant physicality but also his shooting touch as he somehow managed to hit 7 of 15 threes. Two years later we know that Nurkicis not a good shooter, at least from the floor. However, he is a dominant post presence that is almost impossible to move from the block due to a very strong lower body and low point of gravity.
In his first Adriatic League season with extended minutes for Cedevita Zagreb, Nurkic was filling up the stat sheet offensively as well as defensively. Among all categories like usage and efficiency as well as defensive ones like rebounding, blocking and stealing, Nurkic was among the elite of European youths. His USG% of 33% is remarkable as is his 61% TS%.
Nurkic is not very athletic and barely comes off the floor while jumping but has good instincts to set that off. He's almost as terrific an offensive rebounder as an defensive one and his strength allows him to finish through contact and draw fouls while throwing the ball as well as guys hacking him through the hoop similar to PEK! He's not fundamentally sound at all and severly lacks counter moves, often throwing up wild attempts at the rim if he's stopped a few feet in front of the rim. His offensive game is entertaining yet not aesthetic but with great results. He doesn't show much potential as a passer, sometimes awkwardly posting up to throw telegraphed cross court passes to the weakside corner which are often deflected by opponents.
He always plays extremely hard and is super mobile for his size which is a pro and a con as of now. In the Adriatic League, he's been terrific as a hedger against the pick and roll, using his wide body very well to trap opposing ballhandlers. He's also given Cedevita some rim protecticion and showed good instinct to block shots despite the athletic limiations. However, he is overconfident in his athletic ability sometimes and gets a lot of dumb fouls where he doesn't jump high enough and wacks guys all across the arm. Generally he's super foul prone due to the physicality and he'll have to find a way to balance his effective high energy style with one that allows him to play more minutes. Conditioning might have been a reason for him playing barely 15 minutes a game too despite being the best per-minute performer in the Adriatic by some margin. He's an awkward, unique player due o his production and lack of minutes.  It would have been interesting to see his minutes increase similar to Clint Capela. Would he have been able to keep his production up at a similar level? Still, it's tough to envision him being any less than a high energy enforcer off the bench.
Robet White - Jusuf Nurkic 2014 scouting video
Krisaps Porzingis
Latvia
Draft-o-meter: Started from the bottom, now he's here. I wouldn't be surprised to see him go late in the lottery but he's likely a guy to go between 20-28.
It is remarkable that a big time prospect who was able to rocket his stock into mid-first round out of nowhere in a deep draft wasn't much of a name a few yeasr ago. Similar to Nurkic, Porzingis made a name at the Nike Invitational Junior Tournament which is played during Euroleague competition. Playing for Unicaja Cajasol youth, Porzingis flashed the peirmeter game he is known for, mostly relying on jumpshots. Porzingis struggled inside and converted a miserable 32% on 2FGA but also hit 13 of 27 threes and presented great defensive instincts.
After a strong showing at the NIJT, Porzingis was one of the big names at the 2013 U-18 A Division Euro Championship which was played in Porzingis' home country Latvia. Due to a different role as a go-to-guy and some roster issues, Porzingis presented himself as a completely different player, mostly playing inside without shooting many three pointers. Porzingis converted his shots at a good rate and averaged a solid 11 points and 10 rebounds per game as well as 4.9 blocks per game.
For Cajasol's senior team which went to the ACB semifinals this year, Porzingis was sort of a sixth man with a pretty high usage for a guy his age. He had lots of offensive freedom and was allowed to try initate offense out of the dribble. He wasn't super efficient but given his youth, role and the competition he faced, the results were still impressive. It's tough to see him be very successful in the NBA with this style of play despite above average ballhandling and mobility for his size but he should be able to put the ball on the floor AK- or Diaw-like if players close out on him in the mid-range or the three point line. It would be nice to see him work on some post moves though a she basically has none at all and barely gets the ball with the back to the basket. Porzingis' shot looks solid already but he needs to become way more consistent which might happen when he's asked to take less pull-ups and concentrate on spot-ups. He likes shooting from the corners and his overall 3p% has hovered around 30% this year after being a much more effective shooter in smaller sample sizes the last few years.
He's a 7-footer and seems to have impressive wingspan which helps him rack up lots of steals and blocks offensively. Very few youth players in Europe were able to keep up with his STL% and BLK%, and Porzingis was 3rd in BLK% among all ACB players. He posseses NBA athleticism and can finish alley-oops with impressive body control but has a high point of gravity which makes it very tough to keep position against the tough competition, maybe xplaining his rebounding issues. Obviously, he's also super thin which makes him even more of a victim in 1-to-1 matchups around the basket, often having to foul.
Eventually, he's a super young, athletic 7' footer who has showed he can dominate defensively at the amateur level and showed glimpses of translating those skills to the pro level. His reliance on shooting jumpers might throw some people off given his size but the results so far have been good enough to keep working on that three point shot in times where teams look for spacing in the frontcourt. His basic skillset is super interesting and he had decent success in a tough role for a Spanish playoff team. He might be years away but his mixture of skillset and physical attributes is one I wouldn't want to pass up, especially with him being considered a late-bloomer... at the age of 18.
Draftexpress - Kristaps Porzingis 2014 scouting video
Robert White - Kristaps Porzingis 2014 scouting video
Nikola Jokic
Serbia
Draft-o-meter: Likely to be picked in the second round, could increase his stock in coming years though.
Jokic is Vasilje Micic's teamamte at Mega Vizura in the Adriatic League. At 6'11 with a wingspan of 7'3 he shows a couple of offensive tools you love to see in a big: He's a very efficient and creative fisniher inside, is working on his outside shot with OK results and is a special passer for his size.
Just four months older than Porzingis, Jokic played 25 minutes per game in the Adriatic League and averaged 11 points, 6.4 rebounds, 2.1 assists, 1 block and 0.7 steals without being turnover prone.
His statistical profile is great but for some reason eye test scout don't qutie fall in love with him. He's kind of like the Porzingis of the second round. A little older, less athletic but with an intriguing and rare skillset you you don't want to pass up on in the second round. He's not atheltic or fast which might be a concern but his youth and skillset as a faciliator and finisher should give GMs enough reasons to stash him away early in the second round.
Nikola Jokic highlights from 2014 Nike Hoop Summit
Nike Jokic interview at 2014 Nike Hoop Summit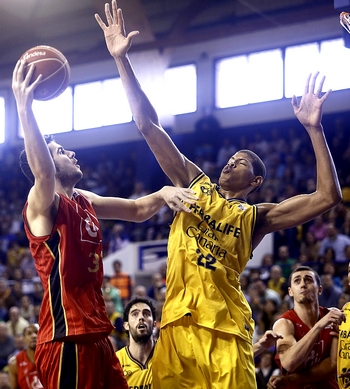 Walter Tavares
Cape Verde
Draft-o-meter: Very likely to be picked as a second rounder, maybe even as a first rounder.
Walter Tavares is 7 foot 2 with a 7 foot 8 wingspanand   gigantomatic hands. At 22 years, Tavares is one of the older players but started playing professionaly just three years ago, finally seeing consistant minutes in the Spanish league this year after some injury problems.
Tavares is extremely limited offensively and not asked to do much, sporting a Biyombo-esque USG% of just 14%. In that limited role he is super efficient though and draws a decent rate of fouls which he converts at a very good rate for a giant.
Unsurprising given his measurements, the Cape Verde native's upside comes on defense where he is a terrific shotblocker and obsctacle as well as a decent defensive rebounder. There shouldn't be much upside offensively despite being a late bloomer, but if teams are looking for an older Thabeet/Biyombo-like project who stays within himself and should be able to help defensively rather sooner than later, Tavares should be a cheap option.
Draftexpress - Walter Tavares 2014 scouting video
Robert White - Walter Tavares 2014 scouting video
Moussa Diagne
Senegal
Draft-o-meter: Very slim chances to get drafted in the second round. Make or break years coming up.
20-year old center standing at 6'10" measured with a 7'3 wingspan. Similar skillset to a guy like Walter Tavares even though Diagne didn't log as many minutes in the Spanish ACB this year nor wasn't close to Tavares' production. Diagne barely ever got involved offensively, sporting a USG% of around 12%. He's mostly a terrific defensive rebounder and weakside shot blocker. Another African late bloomer (started playing professionally three years ago) who was discovered by busy Spanish scouts and picked up by Bismack Biyombo's former club.
Strenghts and weaknesses are pretty apparant for a super long late bloomer. Lots of defensive potential, but foul prone and extremely raw offensively with terrile free throw shooting.
Artem Klimenko
Russia

Draft-o-meter: Outside chance to be picked in second round pick due to size and mobility.
Artem Klimenko is somewhat of a mistery man, even to me despite he is Russian and plays in the Second Russian League. Klimenko is 7'0 with a 7'4 wingspan and surprisingly mobile for his size, but has been off the radar of European basketball as well as the oh so great Russian youth program.
Size and mobility makes up 100% of the intrigue in him. He's not polished at all at either end and has been playing against rather weak competition without really setting that competition on fire. Look at the DX video and judge for yourself. Klimenko might be a mistery to us but NBA teams should get a good feel for him as he's been the most active stateside workout guy from Europe so far. He's worked out for a handful of NBA teams already in a short time, most prominently the Heat and Clippers. If he's not getting picked by any of those those it might be telling of his actual talent level.
Draftexpress - Artem Klimenko 2014 scouting video
Artem Klimenko interview at recent Utah Jazz workout
Artem Pustovyi
Ukraine
Draft-o-meter: Slim outside chance to get drafted in second round due to length.

Ukranian 7'2 center with a 7'5 wingspan. At 21 and in his 3rd pro season with BC Khimik, Pustovyi still barely sees 13 minutes per game due to being in foul trouble all the time. When he's playing he's definately an interesting guy who mostly blocks a lot of shots and can convert inside shots at a good rate inside at the Ukranian league level.
He's upped his usage significantly over the last two years and is quite mobile for his size but given the foul problems and limited minutes it's tough to see any team being super interested. Due to his size, some team might want to stash him away deep in the 2nd round to see whether he can further increase his usage while fouling less.
Artem Pustovyi Ukranian League highlights
European leaders in USG% & efficiency as swell as STL% & BLK%
If you look at all the whole pool of undrafted youngsters in European top leagues (which had Euroleague or EuroCup participants in the last three years - 21 leagues in total), a number of the draft entrants are listed prominently in the top 25 in USG% and STL% + BLK%:
Stats of Saric, Nurkic & Capela domestically and internationally