I get emails.
I get emails from people hawking things. I get emails from people wanting me to promote things. I get about as many emails as you would expect telling me I'm an idiot.
I also sometimes get cool emails. I just got one from Greg Paulson, who is a reader at Canis Hoopus, pointing me to an ESPN article that features his daughter and a WNBA player.
The upshot is that Haley Paulson wound up with a pair of Elena Delle Donne's shoes, and she didn't even have to steal them. Instead, Delle Donne gave them to her prior to a Lynx-Sky game earlier this month.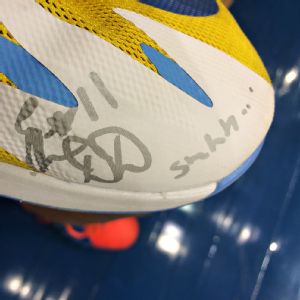 Photo courtesy Greg Paulson
Read the story. It's pretty cool, and I'm sure it's something Haley will never forget.
This is one of the great things about the WNBA. As much as I would love to see it grow, and see salaries grow for these incredible players, it remains a much more personal experience than big time men's professional sports. They take it seriously, and are focused on winning (just watch Cheryl Reeve), but there is still room for contact with fans. Most of the players seem to have a real appreciation for the people who come out and root for them in a way that you just don't see in the NBA.
Now Haley needs to get focused on the Lynx facing off against the Phoenix Mercury starting Friday in Phoenix. Just the Maya Moore jersey for that one, OK?