Oh, hello there Hoopusters. Long time, no see.
I feel pretty confident in saying this game will not be an instant classic on League Pass. The Jazz came into tonight's game without three of their five starters (Rudy Gobert, Derrick Favors and Dante Exum) and their top bench player, Alec Burks, who was playing at a legitimate Sixth Man of the Year level.
Nevertheless, the Jazz made it a contest for three quarters or so, mostly thanks to Trevor Booker's impeccable Dennis Rodman impression in the first half. Booker finished the first two quarters with 13 rebounds in about as many minutes - 8 of them on the offensive glass. Marney asked Towns about it at halftime and got this face as a response.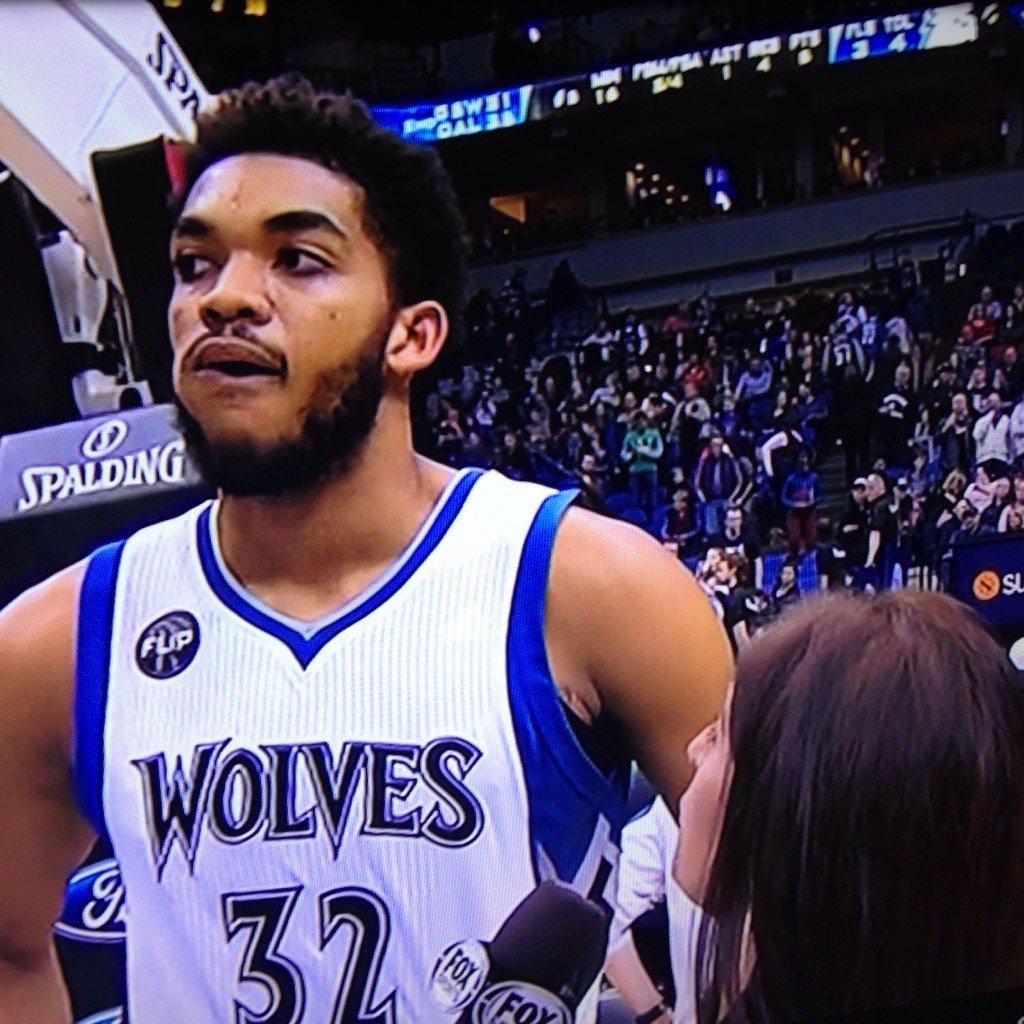 Mitchell had a similar face when asked about Booker after the game. Just...exasperation. And although he didn't say it in so many words, the implication was there that he put Garnett back in at the end in large part to deal with Booker, who was running roughshod over Dieng and Payne.
I asked Towns about Booker after the game, noting he was pretty upset about his 13 rebounds at halftime (KAT incorrectly said 15 to Marney in the interview). Towns said "he guessed" the team did a better job in the second half, but was quick to point out that the bigs, and himself specifically, needed to do a better job controlling the glass from the beginning.
One thing that was very noticeable was Mitchell's front court rotations, which were even weirder than normal tonight. He pulled Towns twice over defensive mistakes, leaving the Wolves with Dieng and Payne. Then he pulled Payne. Then he pulled Dieng. Then finally seemed to decide putting KG back in was the only option left. Which worked. But shouldn't have been necessary. The Wolves should not have had to resort to their starters with 5 minutes left in a game against a team playing Joe Ingles at center. Mitchell was pretty frustrated most of the game - with good reason, I think in this case. I'm just not sure what it says about him or the team that playing KG and Prince is the safety net solution.
Likewise, I'm not sure about Mitchell's "tough love" strategy with Towns. Which, to Towns' credit, he's very accepting of. Trust me when I say Sam could never be as hard on KAT as KAT is on himself. After the game, when asked about what he thought about being benched, Towns was in agreement with the call.
"I played awful, absolutely atrocious. I missed two free throws in a row. Stuff like that. I had turnovers. Those mistakes could cost us a game. I didn't really do well."
Towns put up 25-10 and 2 blocks, and was about the only thing the Wolves had going. Whenever the team had any sort of momentum, it was because of something Towns was doing. The Wolves finally put some distance between themselves and the Jazz on the coattails of a 12 point fourth quarter from KAT.
He made mistakes, yes. Were they egregious? I certainly didn't think they were as bad as he thought they were. Nor as bad as Mitchell seemed to think. To pull the one of the few positive forces the team had going from the game over a couple defensive lapses doesn't sit right. Especially when the other options are Dieng, who has defensive lapses seemingly every other possession, and Payne, who's nothing but defensive lapses at this point. Sam did come correct in the end when he put KG back on the floor, but still....there's got to be a better way to manage this. What you lose when Towns goes to the bench could cost the Wolves wins.
NOTES
Wiggins is really struggling. Teams have figured him out and he's not developing new facets to his game to fight his way through it. I'll write a LOT more about this later, but yeah. It's not good for him right now. He and the offense are in a mutual cycle of damaging each other.
Bjelica needs to stop thinking and just go. He's trying to clever his way out of the box when he needs to really just needs to punch a hole through it. Run the floor. Take every shot you get. The Wolves need him to get back with it, because the other options at the 4 behind KG are not inspiring.
Shabazz adds such a different dimension to the floor compared to Wiggins and LaVine. He needs to be out there more. Granted, that's in his own hands as he's still a disaster on defense a lot of the time. But his blue collar, physical style compliments Wiggins in particular so well. Having them out there together would be a great way to throw a different look at the defense and help give Wiggins more opportunity to do things besides drive straight into traffic.
Ricky tied the Wolves' single game assists record with 17 tonight. Not to worry, folks. He promised an 18 assist game in the locker room afterwards.
No, but seriously. What manner of witchcraft does Gordon hayward use to keep his hair in place???
Jeff Withey is exactly the kind of big the Wolves need off their bench. Straightforward and uncomplicated. Just goes out there and unintrusively gets the job done. Steven Adams. Bismack Biyombo. Zaza Pachulia. Whatever. They're not hard to find.
A fully healthy Jazz team is going to be incredibly intimidating. They'll play 6'5" Dante Exum at point guard. Rodney Hood is the starting shooting guard at 6'9". Favors is 6'10". Gobert is 7'2". They'll be a glorious, old-school wall on defense, like when the Spurs had David Robinson and Timmy and Sean Elliot. If Exum really puts it together, they might be more of a battle than even the Thunder in 2-3 years.
The Wolves play Detroit tomorrow, then are back here Saturday to host Milwaukee.