NBA draft week is finally here, and now it's a countdown until Thursday for NBA fans to find out what goodies their team has selected for them.
The drama surrounding the first pick has subsided in the last couple of weeks, as it appears that the Wolves have focused in on Karl-Anthony Towns, who has emerged as the consensus best prospect after a stellar freshman season at Kentucky. The Wolves are the only team that Towns has visited in the pre-draft process, coming in over the weekend to meet with team management and work out at the new Mayo Clinic Square facility.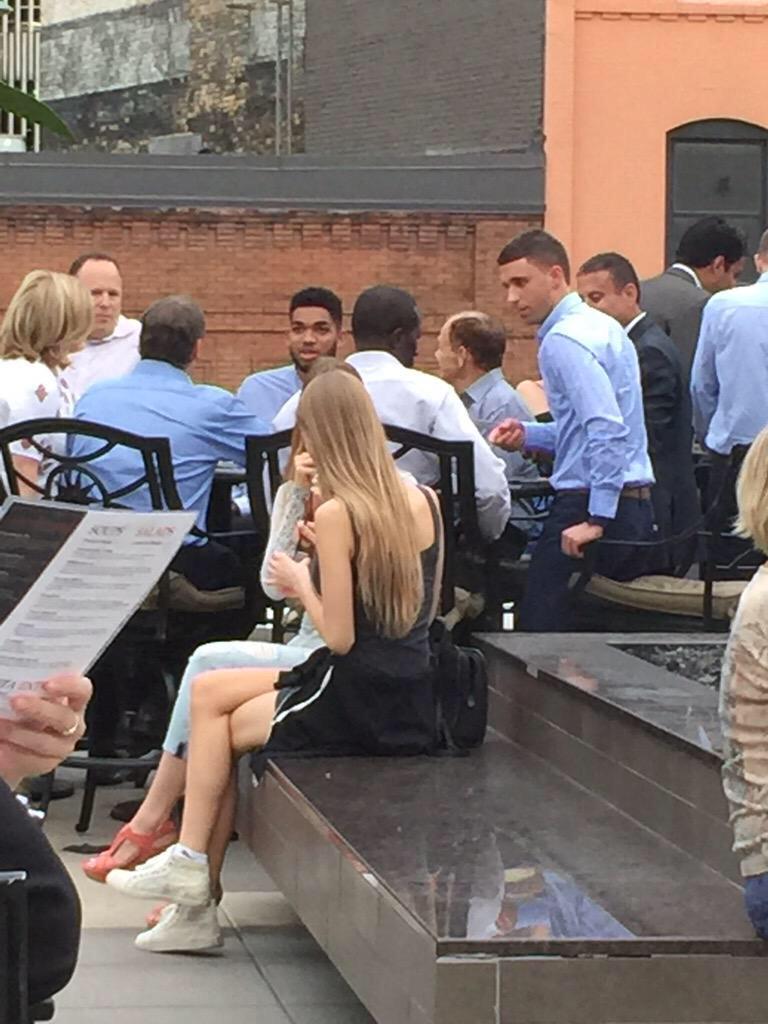 The gang was sighted at a Minneapolis restaurant on Friday (can anyone identify it)?
This is always a fun week for rumors, as teams and agents strategically leak information and misinformation, so there should be plenty to discuss.
First thing that caught my eye on Twitter this morning is that the Rockets have apparently made a significant offer to Sergio Llull, the Real Madrid combo guard they hold the NBA rights to. I'm not sold on Lllull as an NBA player, but he could be useful. Back up point guard who can score a little.
The other question for the Wolves as we head into the draft is what they will do with the 31st and 36th picks. There has been talk about them packaging them to move back into the first round, though whether they really want to do that and/or who specifically they might target remains unclear. I'd love to see them emerge with a potential backup point guard on the cheap, but we'll see. It's also possible they move a player along with one or both of those picks, with the rights to Nemanja Bjelica, the Euroleague MVP, being bandied about. I would be disappointed not to see Bjelica in a Wolves uniform, but we'll see.
Here's a link to Draft Express, the best place for draft and prospect information, as if you don't already have it bookmarked.
Elsewhere, the Lynx lost at home to the Tulsa Shock last night, their first home loss of the season. This drops them to 2nd in the Western Conference, a game behind the Shock. Lindsey wrote it up.
In ex-Gopher news, Trevor Mbakwe was a huge factor in Brose Baskets championship of the German Basketball League. He went for 20 and 13 in the final game of their five game series with Bayern. He's out of contract now, I believe, and should get significant interest in big leagues in Europe and elsewhere.
Today in history
168 BC: Romans defeat Macedonian King Perseus ending 3rd Macedonian War. 
1611: Henry Hudson set adrift in his bay by mutineers
1633: Galileo forced to recant his nutso Earth-revolves-around-the-sun theory. What a fool. 
1675: Royal Greenwich Observatory founded
1775: First continental currency issued
1807: British board USS Chesapeake, an act that leads to the War of 1812
1815: Napoleon abdicates for the 2nd time
1847: Doughnut created. Yes, doughnut. 
1870: Congress creates Department of Justice. Or, "Justice" if you prefer.
1873: Prince Edward Island joins Canada
1911: George V crowned King of UK
1915: BMT subway lines go into operation in New York
1938: Joe Louis knocks out Max Schmeling in first round at Yankee Stadium
1939: First meeting of Princess Elizabeth and (future husband) Prince Philip 
1970: Nixon signs 26th amendment (lowers voting age to 18)
1994: U.S. beats Colombia 2-1 in World Cup; Colombian defender who scored own goal is later murdered
Today's musical birthday is Cyndi Lauper, born in 1953
<iframe width="420" height="315" src="https://www.youtube.com/embed/0neu1sPZZGo?rel=0" frameborder="0" allowfullscreen></iframe>
IT'S DRAFT WEEK!