Last week, the Minnesota Timberwolves ended their first semester. Well, their first 36-game half of the season. We asked all of you to grade the organization, from each player, all the way up to the owner. Grades were assigned in true academic fashion - Whatever basis the grader wanted to go with!
Let's take a peek at their report card.
(Note: Canis Pulsus Vol. 6 data was collected during the all-star break)
---
Karl-Anthony Towns
B (22%)
Average: B-
With all but 1 passing grade, Karl-Anthony Towns solidly scored in the "B" range. Only an overachiever like KAT would still have room for improvement despite posting 22.3/10.7/3.8 averages on .492/.362/.918 shooting splits. We, and likely he himself, will probably expect an A grade by the end of the year.
Full voting results:
D'Angelo Russell
F (22%)
Average: Between D and D+
Despite being 1st on the team in USG%, D'Angelo Russell is averaging the worst basic box score numbers that he's had since his 3rd season in the league ('17-'18). His final grade was an F, but it appears that a good chunk of CH graders were still willing to give him a passing grade (31.7%). That may likely be consideration of the lack of talent around him, coaching, or clean bill of health that he's had this season. Probably all 3.
Full voting results:
Ricky Rubio
C (22%)
Average: Between C- and C
Ah, our favorite Spanish Unicorn. There aren't many more places in the world on the internet that he's beloved more than at Canis Hoopus, but even here he received a bland "C" grade which is still likely higher than he may deserve at this point. I promise you I was not the grader who gave him an A+, let alone a B-category grade either.
Full voting results:
Malik Beasley
B+ (36.6%)
Average: Between B+ and A-
NBA Star Malik Beasley has silenced critics with his play on the court all season. Aside from the one C+ grade he received, it was all love. He tied as the top grade for this semester and the highest overall average as well. Malik's return to the court will do wonders for the team.
Full voting results:
Anthony Edwards
B (22.5%)
Average: C+
Ant had generally positive reviews of his first half performance. On one hand, he's a 19-year-old rookie who is playing in perhaps the strangest NBA/Timberwolves season of all-time. On the other hand, he was the #1 overall pick of the 2020 NBA draft class and has been force-fed minutes. You take the good with the bad and you get a grade somewhere between B and C.
Full voting results:
Juancho Hernangomez
F (31.7%)
Average: Between D and D-
Wait... Juancho is still on our roster? Our poor Hollywood movie star earned himself a failing grade this semester, aside from the 17.1% of graders who are eagerly anticipating the release of his collab with Adam Sandler. It seems that Coach Finch is willing to give him a shot to earn some bench minutes, but long gone are his starter days.
Full voting results:
Jarrett Culver
D (19.5%)
Average: D
Jarrett Culver received a good chunk of "Incomplete" (12.5%) marks due to the injuries he's been dealing with which have kept him out for the majority of 2021. There was a time here at Canis Hoopus where we believed he was the best defender on the team and overwhelming favorite to win Most Improved Player of the Year. We got the receipts.
Full voting results:
Ed Davis
C (45%)
Average: C-
I had a good hearty chuckle when I saw Ed Davis' grade. A few incompletes. A few D's. A few B's. And a bucket full of plain-jane C's. Good 'ol Ed was the talk of the town when we first acquired him just prior to the start of preseason, but he has now been regulated to Kevin Garnett's role on the Timberwolves... in 2016. Still important!
Full voting results:
Jake Layman
C/C+ (24.4%)
Average: C
Look at that breathtaking display of athleticism above. The perfect basketball specimen. At the time of grading, Jake's role on this team was a bit uncertain. He was the starting power forward on opening night, then got lost in the Saunders Shuffle, but is now back in the fold. I'm willing to bet he's currently one of the top risers post-all-star break and has a case to win "MIP" within the Wolves squad.
Full voting results:
Josh Okogie
D (26.8%)
Average: Between D and D+
Much like Ricky, seeing Josh Okogie tumble into the depths of irrelevancy this season has been rather sad. James Harden's dad had a very disappointing performance in the first semester, to say the least. Not only did he continue to be a huge offensive liability (Seemingly more so than ever), his best skill on defense has seemingly turned into motivating the opponent's best scorer to have a career night.
Full voting results:
Jaden McDaniels
B (32.5%)
Average: B+
The Big Mac. Gumby. Silky. The man of many nicknames and many long limbs (SMUT) has certainly been a CH favorite this season. His surprising utility on both offense and defense has been one of the (very) few bright spots of the season. Chris Finch also appears to have gotten the memo and has publicly voiced his commitment to Jaden.
Finch if he thought of Jaden sub late: "We did. We're trying to keep it fluid for now. Some of it is matchup oriented & some of it is me figuring out what guys can do in certain situations. Jaden's been playing well recently, but we'll get him out there. We're committed to him."

— Ricky Rude-Leo (@Y0Leo) February 25, 2021
Full voting results:
Jarred Vanderbilt
B (29.3%)
Average: Between B and B+
Vando certainly has a few oven mitten shaped warts, but he has also been another one of the few positives that we've had this season. V8's hustle has mostly been a welcome sight as he continues to frustrate opponents into turnovers or botched rebounds. Receiving nothing but C grades or above, Vando will look to maintain this momentum in his second semester.
Full voting results:
Naz Reid
B+ (26.8%)
Average: B-
Nazreon Hilton Reid. An undrafted player who is now a top 3 shot creator on the team. Don't look that up you basketball nerds. It sure felt like this was the case during his first semester this season. Naz's ability to take bigger guys off the dribble while also being able to effectively post-up smaller defenders has been so fun to watch all season. His commitment towards getting in better shape has certainly paid off on the court this year. The B+ grade that he earned tied Malik atop our best performers thus far.
Full voting results:
Jaylen Nowell
C (23.1%)
Average: C+
Mr. Big Tymah's grade likely has nowhere to go but up as we head into semester two. It appears that his G-league dominance is starting to finally translate into the varsity league, as he's proving to be a more than capable NBA scorer/sparkplug. Jaylen has earned Coach Finch's trust and we are witnessing his coming out party.
Full voting results:
Jordan McLaughlin
C (22.5%)
Average: Between B- to C+
Our original and (for now) most beloved JMac has had an up-and-down first semester. G-league Jordan, at many points this season, has looked like the best point guard on the Wolves roster. Unfortunately, availability has been the biggest problem for him. Early on, it was his two-way restrictions. Now, it's health and safety protocols. We all wish him a healthy journey back to the court and better things to come in semester dos.
Full voting results:
Coaching staff
Incomplete (32.5%)
This grade was obviously going to be the toughest to gauge. Were you grading off the 0-5 start? Were you grading the coaching staff dating back to the Ryan Saunders? The correct call was obviously an Incomplete grade. The Wolves have shown some noticeable differences since the all-star break so this grade may be the most interesting to follow by year's end.
Full voting results:
Front office
D (31.7%)
Average: D+
The grade of the front office was not great. All of the moves they made have had extremely mixed results. The Ricky Rubio acquisition. Drafting Anthony Edwards over LaMelo Ball, Leandro Bolmaro, and Jaden McDaniels at #28. Giving Malik Beasley and Juancho Hernangomez sizeable extensions. Dismissing/hiring Ryan Saunders/Chris Finch mid-season. The proof has to be on the court so you can't blame the C- and D grades. The trade deadline is right around the corner and whatever happens by then will likely solidify what type of final grade Gers & Co. are going to finish with.
Full voting results:
Ownership
F (61%)
Average: D-
I'll be honest, I did not expect 39% of CH to giving Glen Taylor anything other than an F grade. It's likely the fact that I'm not from nor have lived in Minnesota, so I give less credit for the fact that he's kept the Wolves in Minnesota. However amid yet another fake sale of the team, the poopy product on the court, and the continued/alleged disrespect of Kevin Garnett, Taylor continues to be one of the worst owners in all of professional sports the NBA.
Full voting results:
With the trade deadline a couple weeks away, who/what do you think will most LIKELY be traded?
Ricky Rubio (27%)
Ricky makes the most sense as the answer here. There's a number of reasons for that: 1) He's played the worst ball of his entire career during this stint with Minnesota; 2) There's likely a playoff/championship hopeful who could benefit more from his veteran presence; 3) Rubio's $19M contract is one of the few moveable contracts to net any type of positive return; 4) Most importantly, if you love someone, sometimes you just have to let them and their beautiful eyelashes & locks of hair go.
Full voting results:
Who/what do you most WANT traded?
D'Angelo Russell (60%)
Maybe 27% of CH thinks Ricky is most likely to get traded, but only 5% want him to be traded the most. A whopping 60% of voters would rather D'Angelo Russell to be the first to be moved. Unfortunately, Canis Hoopus doesn't run the Timberwolves (yet), so it's unlikely that Rosas is ready to part with his prized point guard and KAT's good friend anytime soon.
Full voting results:
Who/what do you most NOT WANT traded?
Karl-Anthony Towns (34%)
No surprises here. Trading KAT may or may not be inevitable, but while he still has 3.5 years left on his contract, there's 0 reason to be considering that yet. Also please don't trade anymore draft picks. Please.
Full voting results:
Will the Timberwolves make the playoffs?
No (100%)
(Check out the fun trend of this question dating back to December)
Full voting results:
Trend:
With half the season over, my feelings on the direction of the Timberwolves are...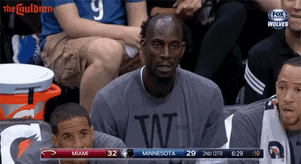 Very pessimistic (53.7%)
Must I remind you of how fun of a rollercoaster ride the Timberwolves continue to be? Fun, as in if you were on a ride designed on RollerCoaster Tycoon 2 named Arachnophobia where two shuttles go on 360° loops before crashing head-on together. That's the type of fun my childhood best friend, Chris Peters, enjoyed. Somewhere out there, he's a Timberwolves fan.
(Full trend detailed below)
Full voting results:
Trend:
Link to the full results: https://docs.google.com/spreadsheets/d/1AxHDsqASQb-ZEMtlwfelEl2CX6xoDSVsIqjqk7mlg_E/edit?usp=sharing
---
This 1.88 GPA puts our poor Timberpups on Academic Probation. They better go seek some tutoring! We'll be back soon enough for Canis Pulsus Vol. 7 - Trade Deadline Edition.