The season is right around the corner, let's make some predictions!
The Minnesota Timberwolves were one of the teams making major changes this offseason with the addition of 3x Defensive Player of the Year in Rudy Gobert to go along with their core of Karl-Anthony Towns, Anthony Edwards and D'Angelo Russell. But adding much more depth to this team in the bench as well, I've come up with some predictions just as training camp and preseason approaches.
Karl-Anthony Towns
Stats: 25.7 points, 9.4 rebounds, 3.5 assists, 0.6 steals, 1.1 blocks, 52.6% FG, 41.7% 3P, 81.4% FT
*KAT will very likely remain the Wolves Go-to scorer for a few more years with Anthony Edwards growing into a more dynamic scorer. With Gobert in the mix at center, KAT will likely be more perimeter oriented this upcoming season but still will have driving opportunities. My biggest issue with him just for now is the over-exaggeration on his drives leads to offensive fouls and he often has very poor recognition when his teammates are open (or he delivers the ball very slow to them).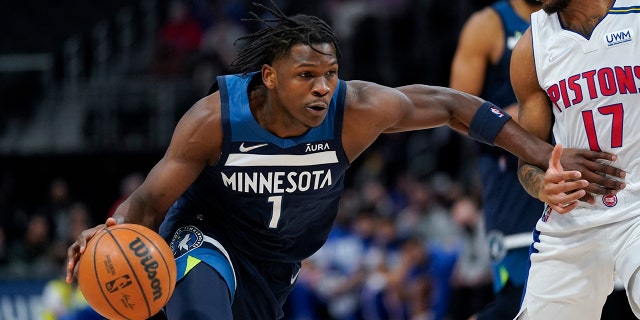 Anthony Edwards
Stats: 23.2 points, 5.4 rebounds, 3.6 assists, 1.4 steals, 0.3 blocks, 46.7% FG, 35.4% 3P, 79.3% FT
*Anthony Edwards will continue to grow as a scorer, continue to grow as a player, and continue to grow as a young man. I believe this year, he will continue to expand his offensive game and develop more moves to help him become a more complete player. Adding Rudy Gobert gives him the perfect screener that will allow him to develop more of a passing game. Speaking of his passing game is what is gonna lead into my concerns with him. Yeah, he barely passed last year. He had a 21.3% Passing Percentage which was second worse on the team in front of Taurean Prince. Hopefully, he doesn't try to tackle on more he can chew.
Rudy Gobert
Stats: 14.6 points, 13.3 rebounds, 2.6 assists, 0.7 steals, 2.9 blocks, 64.5% FG, 0% 3P, 62.3% FT
*The biggest addition to the TImberwolves will easily have the easiest impact on the defensive end. Playing Gobert at center with Karl-Anthony Towns at the 4 gives the Wolves a huge dynamic offense to defense duo. Gobert cleans up a bunch of needs the Wolves desperately lacked last season: a consistent rim protector, a consistent rebounder (no disrespect to Jarred Vanderbilt he was great for them), and a consistent pick and roll lob threat that will benefit D'Angelo Russell more than anybody on the team. My issues with him? Just stay healthy. In fact, everyone just stay healthy.
D'Angelo Russell
Stats: 21.2 points, 3.5 rebounds, 8.9 assists, 1.2 steals, 0.3 blocks, 44.7% FG, 38.2% 3P, 84.9% FT
*DLo had probably the worst end to his career last season in the playoffs which is currently tarnishing his name and value around the league. But those who know his game know how special and important he can be to this Wolves team. His numbers may be a wishful thinking on my end but hear me out, last season he didn't have someone who set screens at the level of Rudy Gobert nor someone who was an efficient roller. Last time DLo had someone like that was his All-Star season in Brooklyn with Jarrett Allen and that opened up so much more in DLo's offensive game. I expect a huge uptick in production from him this season. My issue with him is his on and off willingness to remain aggressive throughout games. Often times he looks like he is contempt with staying out of plays.
Jaden McDaniels
Stats: 12.3 points, 5.2 rebounds, 3.0 assists, 1.2 steals, 1,0 blocks, 45.3% FG, 36.7% 3P, 77.8% FT
*This is my pick to be the Timberwolves representative in the Most Improved Player race. McDaniels has an expanding offensive game to go along with his expanding defensive impact. As Patrick Beverley said, he was working out with Kawhi Leonard this offseason. Unsure if that actually happened or not but McDaniels had a great finish to the season last year where you just ooze confidence in what this kid can become. My concerns is his starts to the season. Last year we expected him to be a big part in the starting lineup, but because of a super slow start to the season, he lost out on that starting lineup job to Jarred Vanderbilt.
Kyle Anderson
Stats: 8.6 points, 4.6 rebounds, 4.1 assists, 1.1 steals, 0.5 blocks, 48.4% FG, 34.7% 3P, 75.0% FT
*What a grab it was for the Timberwolves to sign Kyle Anderson this offseason which really was their first move this Summer. It is very interesting to see how SlowMo fits with this roster. For those who are not familiar with him, he's slow yes. But incredibly smart and an excellent defender. Think of Kyle Anderson as a light Draymond Green type player, someone who isn't going to dominate in points but is going to defend with the best of them and make smart passes. If the Wolves are going to get even better, they are going to bank on Kyle Anderson to be the leader of their bench depth.
Naz Reid
Stats: 9.2 points, 3.9 rebounds, 1.3 assists, 0.3 steals, 0.8 blocks, 46.4% FG, 33.9% 3P, 73.4% FT
*I won't lie, I have a ton of concerns centering around Naz Reid's fit with this roster. I am of the mindset that when the Wolves needed a back up center behind Rudy Gobert, they needed someone with size who can come in and still hold the fort defensively. Naz Reid is offensively oriented but he can surprise you a little defensively. I tend to think Naz gets way too ahead of himself at times on offense too. But maybe he is expanding his game a lot more recently so only time will tell.
Jaylen Nowell
Stats: 10.4 points, 3.2 rebounds, 2.7 assists, 0.5 steals, 0.2 blocks, 44.9% FG, 37.0% 3P, 80.1% FT
*The Wolves don't exactly have locks anywhere on their roster outside of the starting lineup, but if there was one, I believe their Sixth Man role should be locked with Jaylen Nowell. The easy replacement for Malik Beasley who brings more to the team than just outside shooting. Nowell is a natural 3-level scorer and an improving defender. My issue is the Wolves are somewhat guard heavy on their bench with Austin Rivers, Bryn Forbes and Jordan McLaughlin sitting there. Nowell may not be able to keep his role consistent.
Taurean Prince
Stats: 8.4 points, 4.7 rebounds, 2.1 assists, 0.4 steals, 0.5 blocks, 43.4% FG, 39.2% 3P, 74.3% FT
*Taurean Prince had a rather up and down season last year. Early on it looked as if he didn't belong in the league anymore then came alive and finished the season very strong with a clear role for the team. Good defender and rebounder for his size and steadily became a better 3 point shooter as the season progressed. My issue is what was mentioned in the Anthony Edwards segment, he had the lowest pass percentage on the team. For someone not playing heavy minutes, that's a no-no.
Austin Rivers
Stats: 6.8 points, 2.3 rebounds, 2.2 assists, 0.6 steals, 0.1 blocks, 41.3% FG, 33.9% 3P, 74.8% FT
*Adding Austin Rivers to the bench depth was a nice touch by Tim Connelly this offseason, providing more of a perimeter defensive punch after trading away Patrick Beverley. Rivers is not the Beverley pest, but he can get physical and under your skin. At this stage in his career, he's not going to demand heavy minutes unless really needed. He can get you about 15-17 minutes a game and be solid throughout. His offense is rather streaky but you can very well rely on him to disturb the opponent's defense.
Bryn Forbes
Stats: 7.2 points, 1.3 rebounds, 1.8 assists, 0.3 steals, 0.0 blocks, 42.2% FG, 40.2% 3P, 90.4% FT
*In my opinion, Bryn Forbes was an excellent signing as the replacement for Malik Beasley as the marksmen shooter. That's really all he can really bring to a team is elite catch and shoot productivity. Another player that is not going to demand heavy minutes, he comes in for however long he is in the game and knocks down shots. Issues stems on the defensive end obviously and the fact that the Wolves are essentially very guard heavy right now - may be times where he does not see the floor. But he does work well in a Chris Finch style offense.
Jordan McLaughlin
Stats: 5.3 points, 1.9 rebounds, 3.2 assists, 0.2 steals, 0.0 blocks, 43.0% FG, 30.8% 3P, 73.2% FT
*I truly want to believe Jordan McLaughlin will remain the Wolves back up point guard this upcoming season but it is very likely he will become the third string guard once again. JMac is very valuable at either option, as the back up or third string. The issue is because of his size and often streaky play on both ends, he can't hold a permanent spot in the rotation until someone either gets hurt or plays their way out of their spot. Other than that, JMac is a perfect player to keep around on any team.
Eric Paschall
Stats: 6.7 points, 3.3 rebounds, 0.6 assists, 0.4 steals, 0.4 blocks, 45.3% FG, 37.3% 3P, 77.8% FT
* I don't think I'm crazy into believing Eric Paschall will play his way into a permanent spot on the team and will be able to carve out some minutes into the rotation. Paschall is still pretty young and has a lot of tank left in the gas. It was an overachieving rookie season with the Golden State Warriors that put Paschall on lofty expectations that he no longer reached in the league. But being undersized, he's a work house and will battle even with larger bigs on the offensive and defensive end.
Nathan Knight
Stats: 3.6 points, 2.4 rebounds, 0.2 assists, 0.2 steals, 0.3 blocks, 50.3% FG, 24.4% 3P, 62.1% FT
*Nathan Knight will be the Wolves 3rd string center behind Naz Reid and Rudy Gobert. Probably will spend some more time with the Wolves G-League affiliate a little too but in case of injuries, he will be needed.
Wendell Moore Jr
Stats: 5.1 points, 2.2 rebounds, 1.7 assists, 0.3 steals, 0.1 blocks, 40.4% FG, 32.6% 3P, 71.2% FT
*With all the depth the Wolves have, I'm not expecting Wendell Moore to be playing a lot of games unless a bunch of injuries plague the team or he absolutely dominates in the preseason similar to Kyle Kuzma's rookie season. But when he does play, I'm expecting a decent showing from him. A lot of rookie mistakes but flashes of a very important player going forward.
Josh Minott
Stats: 4.4 points, 1.6 rebounds, 0.6 assists, 0.2 steals, 0.2 blocks, 39.5% FG, 28.4% 3P, 71.3% FT
*Josh Minott is a very exciting player to watch but likely won't be of any importance this upcoming season unless really needed. He's very springy and has great defensive upside. By next year, he and Wendell Moore will be getting some more run off the bench for the Wolves by likely both of them will spend a lot of time in the GLeague.